The Inauguration of Laurie A. Leshin
Laurie Leshin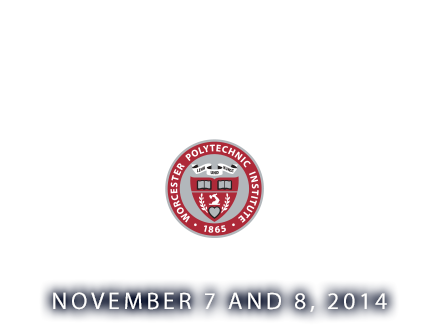 Inauguration an Intergalactic Celebration
President Leshin Urged the University to Take "Theory to Practice to Impact" to become the "Premier Global Polytechnic"
More than 1,200 people gathered for the historic event. Attendees included U.S. Senator Edward M. Markey (D-Mass.) and government officials at the state and local levels, college presidents and other academic and administrative leaders from colleges and universities from around the nation; representatives from the business, nonprofit, and civic communities; as well as WPI students, faculty and staff members, alumni, parents, and other friends of the university. Watch the highlight video.
The sky is no limit
Presidential inauguration launched a celebration 150 years in the making:
The WPI Sesquicentennial
The inaugural festivities for Laurie A. Leshin began Nov. 7, with Inspired to Innovate: A Future-Focused Conversation, a moderated dialogue among special guests from academia and industry. The president's installation ceremony was held Saturday, Nov. 8.  That evening, the WPI community came together at The Intergalactic Ball, celebrating our place in the universe, where for 150 years we've been asking "What's possible?" Watch the video to the right.
Laurie A. Leshin
Ready to elevate WPI's impact in communities worldwide
With more than 20 years of experience as a leader in academia and government service, and with an accomplished record as a space scientist, President Leshin combines a lifelong love of learning and exploration with a strong track record of igniting action to advance critical institutions and programs. As WPI's 16th president, she is committed to elevating WPI's impact in communities worldwide. A self-described "space nerd," she shares WPI's love and pride for the father of modern rocketry, Robert H. Goddard, WPI Class of 1908.
Events
Two days of events celebrated this historic moment in WPI history.
Friday, November 7
3 p.m.
Alden Memorial
Inspired to Innovate: A Future-Focused Conversation,
moderated by President Leshin, featured a diverse and highly accomplished group of special guests, who explored themes relevant to WPI's future. Learn more…
Saturday, November 8
10 a.m.
WPI Sports & Recreation Center
The Inauguration of Laurie A. Leshin
Installation Ceremony
Luncheon for all guests followed the ceremony, in locations across campus
7 p.m.
Harrington Auditorium
The Intergalactic Inaugural Ball
The WPI community celebrated the start of a new chapter in WPI history with President Leshin. Semi-formal attire.
Speakers
Inaugural Weekend Begins with Lively, Future-focused Dialog
Great minds from academia and industry discussed the sciences and the arts, engineering and education—and the challenges and opportunities for our youth, our nation, and our place in the world. Watch the highlight video.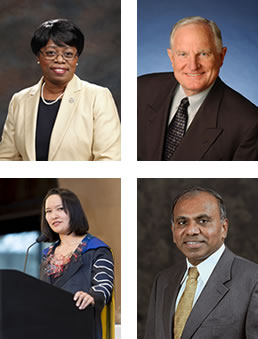 ---
---